Our fabrics and production techniques
The most important thing about all our fabrics is good quality because your jeans are only sustainable if you can wear them for a long time. In addition to using organic cotton, we are constantly increasing our use of sustainable alternatives like Tencel™ or hemp fibers, which grow faster than cotton and use less water. Details on all our fabrics can be found here.
As sustainable as possible. That is our goal.
Why do we still use plastic in some of our jeans?
Synthetic fibers are necessary for the stretch and therefore part of some of our jeans. Can you imagine skinny jeans without stretch? Neither can we. But to give you the option to wear plastic-free jeans, we offer our wide fits in non-stretch versions as well and are currently testing biodegradable alternatives to traditional polyester.
Stretch vs. Non-Stretch
Jeans with stretch are softer, while non-stretch jeans are plastic-free and more robust. So the decision is entirely up to you.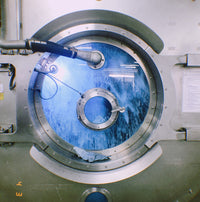 Innovative technologies for your jeans
There are different technologies to achieve different shades of blue from the indigo denim fabric. This presents us with the challenge of finding technologies that are as sustainable as possible and go easy on people and resources. Currently, we are testing the following technologies for the production of your jeans.
Questions, ideas, suggestions? Write us!
Do you have further questions about our fabrics and manufacturing processes or ideas on how we can take another step toward sustainability? Feel free to write us a message to hello@dawndenim.com.