The most sustainable jeans are the ones in your closet
At Dawn, we're not afraid to say it: The most sustainable jeans are the ones you already have in your closet. Why? Because you're using what's already available to you. We want to be your second choice. That's why we work in our own factory in Saigon, Vietnam, to produce the second most sustainable jeans. You can find our jeans in our online shop or in a Dawn store near you.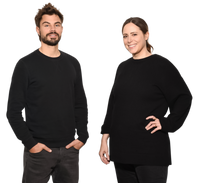 Transparency is at the core of our values. In a dirty, unfair fashion industry full of greenwashing, we want to open doors, tear down walls and show you what's behind the production of our jeans. We welcome you into our factory and invite you to be part of our journey. Continue reading to find out what we are working on, what we really care about and how we try to get closer to our vision of a fair and sustainable fashion industry.

How did it all start? The two Dawn founders Ines Rust and Marian von Rappard have made it their goal to be the bridge between consumers and the people who make their clothes. This is how Dawn was born – out of the desire to change the fashion industry for the better together. At Dawn, we are not afraid to put our finger into the wounds and question our own behavior again and again.
Together for a better fashion industry.
Our mission begins with the sad reality that the fashion industry employs approximately 65 million people, 85% of whom are subjected to dangerous working conditions and discrimination that in many cases violate human rights.
Various studies indicate that many factories do not comply with current minimum wage laws and that even the legal minimum wages in some countries are too low to meet the basic needs of workers.
The fashion industry is considered one of the dirtiest industries of all, which not only has consequences for our environment, but also entails social injustice. [1]
In order to fight for a better fashion industry, we have to start by creating transparency and honesty, and constantly challenge ourselves. Sustainability and fairness are much more complex issues than you might think at first glance.
For us, sustainable fashion cannot be defined only by the materials we use. Instead, we also have to consider the social aspects and look at change from a more holistic point of view. That's why we want to share with you our initiatives and projects that bring us closer to our goal of being the second most sustainable jeans for you.
Who makes your clothes and where do the raw materials come from?
We want to make the production of our jeans as transparent as possible and therefore invite you to take a look behind the scenes of our production.
All our products are made in our own Dawn factory in Saigon, Vietnam, where we establish new standards for fairness and environmental awareness. As a member of the Fair Wear Foundation, we have been named a Leader brand three times and have twice received the full 100 out of 100 points in their annual Brand Performance Check.
Working closely with our team in Vietnam is important to us in order to build a bridge between the workers and you. That's why we give you the opportunity to send tips to our colleagues in Vietnam. We work together with tip me and enable you to show your appreciation and recognition to the workers who produce your clothes.
From the beginning, we decided to pay our team in Vietnam according to the Anker Living Wage method to secure livelihoods and make dreams come true. Tip me is not a salary substitute, it is mainly for the appreciation of a craft. The responsibility for a fair and well-paid working environment lies with us.
To better track the journey your jeans have taken, we work with Retraced. Our products are marked with a QR code from Retraced. This allows you to scan our supply chain as far back as possible, view certificates and inform yourself about our suppliers.
For a traceable supply chain, we depend on the transparency of all parties involved. Unfortunately, we are still reaching our limits in this respect at the moment. For example, some time ago we wanted to find one of our organic cotton farmers and get to know them personally, but we didn't get any further than the wholesaler. Even a cooperation with Cotton Connect, an NGO supporting cotton farmers, could not help us to reach this goal. This shows us that there is still a lot of work ahead of us before we can talk about a truly transparent supply chain.
Reduce, Reuse, Recycle – for a better care about our environment.
Every new piece of clothing you buy has some impact on the environment. That's why we say the most sustainable jeans are the ones you already have in your closet and love to wear over and over again. But in order to have the least negative impact on our environment when producing new clothing, we are guided by the three Rs: Reduce, reuse, recycle.
Reduce refers to reducing our negative impact on the environment wherever we can and using only the raw materials we really need. This starts with our product planning and goes until the fit guide in our online store, which is designed to help you find the right jeans and reduce the risk of wrong purchases and returns. We are also constantly on the lookout for more sustainable materials that use less water and are free of harmful chemicals. This includes, for example, our Blue Revolution collection with a special dyeing process that uses up to 72% less water and is free of unhealthy chemicals like aniline.
There's also a lot to reduce when it comes to packaging. Our jeans come in a reusable bag made from organic cotton and we strive to reduce our plastic waste as much as possible. However, we still haven't found a solution for everything: For the transport of our products from Vietnam to Germany, we currently still have to resort to plastic. After trying to use bags made of compostable corn starch instead of plastic bags, we can confirm: The corn starch dissolves really well - but unfortunately already before the jeans arrive with us in Germany.
Reuse refers to reusing products. For us, this means producing high-quality jeans with a timeless design, so you can combine them again and again to create new favorite looks. This is also where the jeans in your closet come back into play: Treating your jeans with care and wearing them as long as possible is the best strategy to avoid wasting natural resources.
Recycle refers to the return of used products into a new user cycle. Currently, we are not yet able to recycle our jeans and turn them into new products. However, we do work in part with recycled materials, such as for the fabric of our skinny jeans SUN UP: The polyester used is Polyester Repreve® and consists of recycled PET bottles.
Not recycling, but upcycling is what we do with our project Art on Broken Pieces.
Upcycling means redesigning flawed or old products and thus adding value to them again. We give products with small production flaws that don't make it through our strict quality controls a new life with small embroideries and patches.
This is how we reduce pre-consumer waste and prevent the life cycle of our products from ending at this point.
It is important to us to produce honest sustainable fashion. We want to contribute to changing the fashion industry as a whole. We see ourselves as part of a movement. That's why we love learning from others and sharing our ideas with people and companies who have a similar vision.
Sustainable fashion is not just a buzzword for us. We want to do better and we know we still have a long way to go. That's why we do our best to learn from our mistakes and always focus on the best solutions currently available to us.
To make a real difference, we need you as well as our great employees and strong global partners. We believe that together we can start a movement that lays the foundation for a better fashion industry. If you have an idea of how we can improve, feel free to send us an email at hello@dawndenim.com or contact us via our contact form. We are always happy to exchange inspiring ideas and interesting visions for the future!