circular fashion
Dawn tries to go circular
Rethinking the fashion industry
We believe that the future of the fashion industry lies in circular fashion. This means that clothing stays longer in the cycle and is not thrown away after a certain time. Through upcycling, recycling and rethinking, we have a vision of a business model where resources are not wasted in jeans production and our jeans get a new life again and again.
Circular fashion presents us with many challenges. Therefore, we still have a long way to go before we can achieve our vision. Here you can find all our projects with which we are already taking a step towards circular fashion.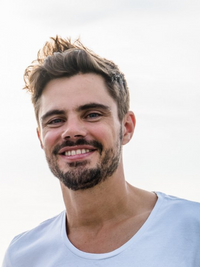 «Solving an industry problem with a lot of creativity, that's our approach.»


Marian von Rappard
Dawn Founder
Art on Broken Pieces is our first approach of a solution to extend the life of our jeans. In order to guarantee high quality, many jeans are sorted out in the production process because of the smallest defects. We want to give these jeans, which thus only have a life of a few hours, a longer life with Art on Broken Pieces. Small tears, color irregularities or faulty seams are repaired with small embroideries and patches. This is how we create beautiful one-of-a-kind pieces that become special precisely because of their flaws. In this way, we come a little closer to our desire to find a good home for every singe pair of jeans.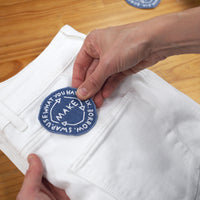 The topic of circularity presents us as a company with various challenges. For example, we are unfortunately not yet able to save all discarded jeans through Art on Broken Pieces, as it is important to us to ensure the high quality of our products. Since each pair of jeans becomes unique due to the embroidery, displaying them in our online store also poses certain difficulties. If you already have experience with circular fashion or just want to share a good idea with us, feel free to email us at hello@dawndenim.com. We are always happy about exciting conversations, interesting visions for the future and inspiring ideas!