This is not a color This is good news No dye, no pollution
Pure Beauty DAYLIGHT denim jacket
Pure Beauty relies on No Dye. The DAYLIGHT always shines, without any colour. The no-dye fabric in this collection uses extremely little energy to manufacture and produces hardly any waste water. Mega beautiful for nature and people, mega beautiful in your outfit.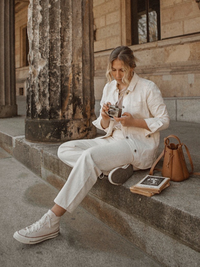 Pure beauty STARDUST jeans
The STARDUST is our signature style. Designed to be casually relaxed and feminine, it sits high on the waist and is loose from hip to hem.
For our Pure Beauty collection, the STARDUST comes with a fabric belt. Why? These jeans are super elegant. The belt emphasizes that. And did we say? No dye, no pollution, pure beauty. No other denim consumes so little energy and produces so little waste water.
Pure Beauty SKY Jeans
The SKY in No Dye not only rhymes, they will also become your new favorite jeans from this summer. The flared, cropped leg stretches every silhouette. The fit sits super comfortably between the waist and hips.

As with all styles in this collection, not only the fabric is super sustainable. Removable buttons ensure that metal and textile can be efficiently recycled should you ever say goodbye to these pants.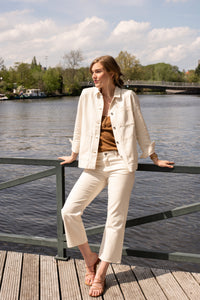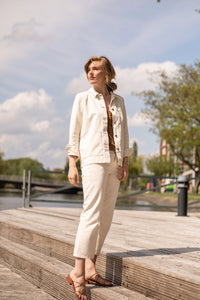 Why should you pre-order Pure Beauty?
It makes a lot of sense to produce beautiful styles in a way that conserves resources. The styles that are NOT produced use the least resources. With your help, we only produce as many Pure Beauty pants and jackets as we actually sell. Join the pre-order now and get your new favorite piece in July, the loveliest month of the year.