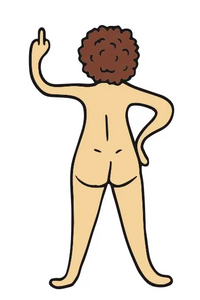 Already out of character today?
We humorously show the middle finger to prejudices and gender-specific expectations. With us you are welcome the way you feel best.
Why are we collaborating with Sofia Holt? Because she's super good. As a person and as an artist. There was an immediate spark between us and her "babes". Women of all shapes, colors and stages of life are celebrated here. Something like that can only be drawn by a soul mate, we thought. And that's how it turned out: Sofia is the most amazing babe of them all.

Also okay without defects: Sustainable denim from DAWN